About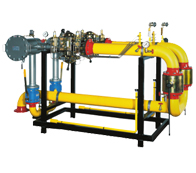 Energotech Projects ltd. is an Israeli owned and operated company, which specializes in promotion and sale of Energy products aimed for Generation, Transmission&Distribution, Natural Gas, Aviation and Transport industries.
We are the Exclusive Distributors of numerous global manufacturers within these fields and serve mainly the Israeli utilities, such as Israel Electric Corporation, Israel Ministry of Defense, Israel Airports Authority, Israel Aviation Industries, Petroleum & Energy Infrastructures Ltd, Israel Natural Gas Lines Ltd, Israel Railways, Jerusalem light rail and others.
We serve also the main electrical contractors within the fields of t&d specializing in MV and HV equipment. Whenever needed, we subcontract local companies for performance of installation and services required by our customers.
Our team is dedicated to provide the right complete solution the customer wishes to get. With our expertise personnel in import procedures, we can assure shortest delivery time of all needs at the utmost effort.